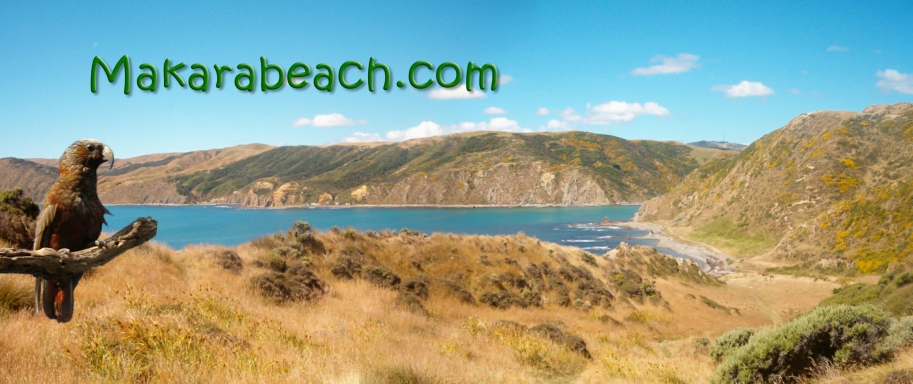 Makara Beach is just west of Wellington and is a popular walkway on weekends. I like to walk there occasionally and walk up the track in the foreground and view the South Island at the top of the cliff. There old Maori fortifications and Maori ovens have been discovered on the main beach around the corner. The beach in the foreground was once covered with rickety weekend baches but the City Council ordered them dismantled as no one had a permit. The bays here and further around were once rich in paua, shell fish and finned fish. The hinterlands are now studded with Meridian's wind turbines. When I was a teenager I had a plastic boat and me and my mates would hunt and fish here on weekends catching eels, rabbits, paua. kawhai,snapper, john dory, with billy tea and baked beans. Our favourite jaunt was to surfide the boat intoTe Ikaamaru Bay as the bay is horseshore shaped and makes big waves. But now I just walk there and remember what it was like. You can email me. And below some of my pictures from around Wellington (one paint scaped).
If you know your family history you may have migrant stories like these from my family history which I have documented and published for the wider family.
The Ryan Story- Tipperary Ireland where all good Irish Ryan Catholics come from.
http://www.lulu.com/shop/ryan-family/the-ryan-story/paperback/product-18826861.html
The Ross Story - Island of Lewis, Stornoway, Norse and Pict
http://www.lulu.com/shop/david-michael-ross/violet-and-murdoch/paperback/product-22250422.html